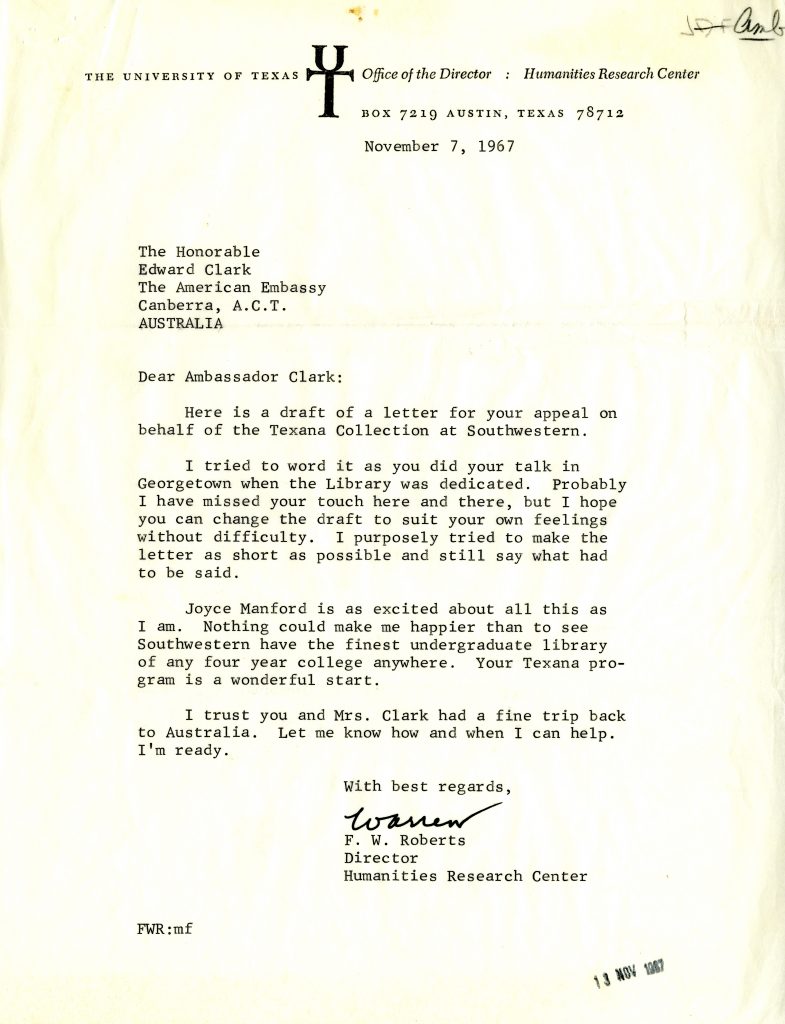 In preparation for an essay about Edward A. Clark in the publication The Book Collector, I have been going through the multitude of boxes that comprise the papers of Ambassador Clark. The letter, above, and draft, below, surprised me, as it is a direct connection between Clark, who gave his collection of Texana to Southwestern in 1967; and F. Warren Roberts, whose family gave his collection of Texana to Southwestern in 2016.
Clark attended – but did not graduate from – Southwestern. However, due to his friendship with the Brown family of Houston, and his own affiliation, Clark remained close to Southwestern. Roberts graduated SU in 1938, and both he and Clark served as trustees.
The above letter, sent to Clark after the announcement of his gift of Texana in 1967, demonstrates that both Clark and Roberts were committed to improving the Texana collections at SU, and knew each other well. Indeed, as director of the Humanities Research Center at UT (now the Harry Ransom Center), Roberts and Clark worked together frequently – especially on the acquisition of the Eberstadt collection of Texana from John Jenkins.
The draft letter that follows is an appeal to Clark's friends to financially support the acquisition of more Texana to supplement the collection already at SU. Between the time of the initial gift in 1967 and Clark's death in 1992, through the gifts of Clark and his friends, between 10 and 20 thousand dollars were available for Texana acquisitions each fiscal year – a testament to Clark's commitment to the collection, as well as his fundraising acumen. Indeed, this was so successful that Clark's initial gift of approximately 6,000 volumes has grown into 19,000 volumes, among them many unique Texana titles.