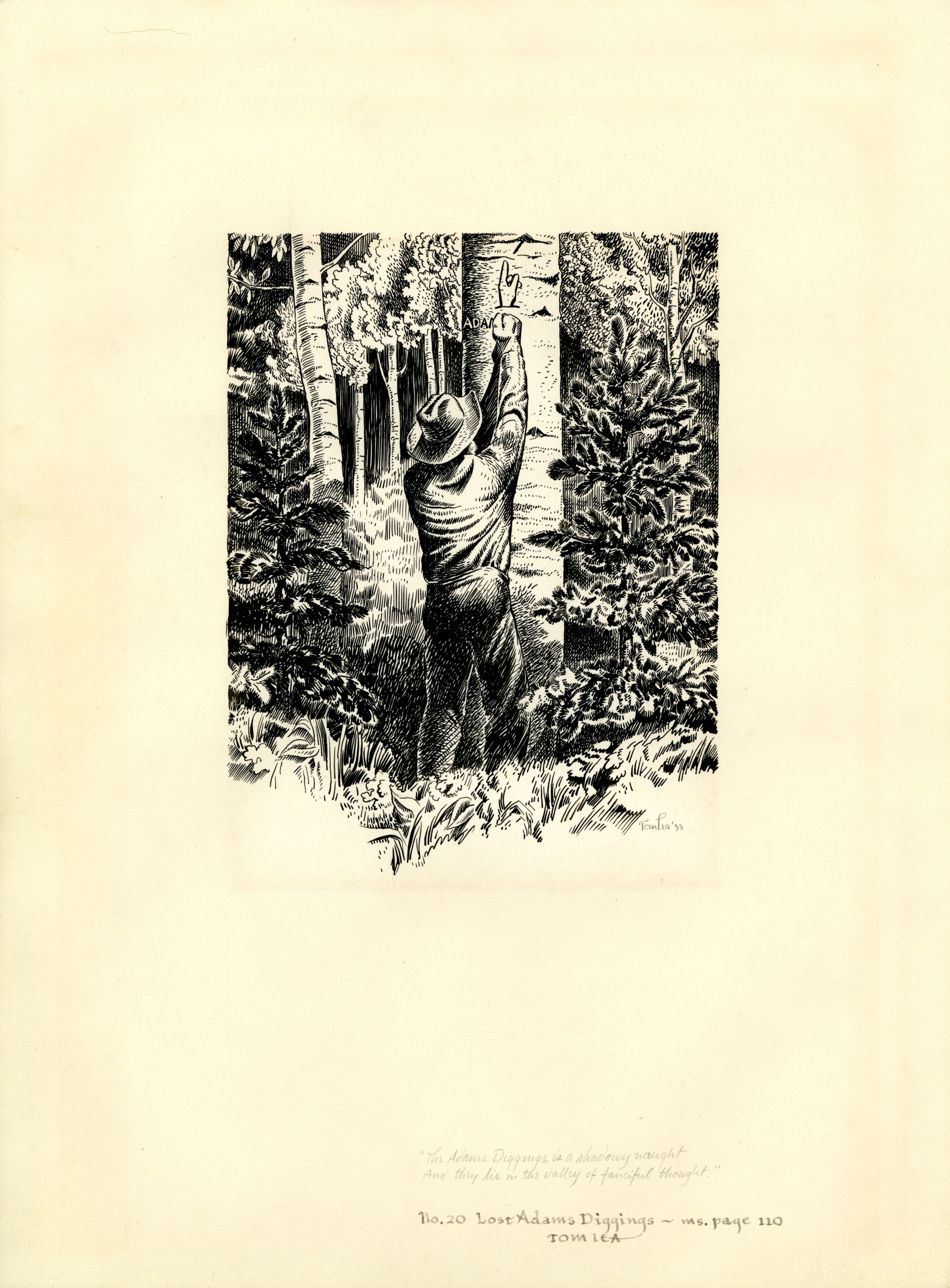 Special Collections has a large collection of materials associated with J. Frank Dobie, a 1910 graduate of Southwestern. These materials include holograph manuscripts, typescripts, and an almost exhaustive collection of his printed works. These all are expected in a collection of Dobie – but the piece you see above is not. My recent work with my colleague, Joan Parks, on her art and art history lib guide led me to revisit this work, and explore why we have this piece.
The piece above – and the focus of this essay – is Tom Lea's original pen and ink illustration titled Nat Straw's Poem. The drawing came to Special Collections amongst the donations of the papers and possessions of Dobie.
Tom Lea, a noted 20th century artist and Texan, produced a remarkable body of work composed of murals, paintings, drawings, illustrations, novels, and histories. We have a broad selection of his printed work – especially the work Lea did together with his fellow El Pasoan Carl Hertzog.
In 1937, already an established artist, Lea decided to do illustration work for books and other printed materials. This work led to a partnership with J. Frank Dobie to create illustrations for Dobie's forthcoming book, Apache Gold and Yaqui Silver. Reflecting on this collaboration later in Lea's oral history, Lea recalled his father introducing Dobie to Lea, sharing a dinner of spicy enchiladas, and after midnight (as Dobie dealt with the digestive consequences of those enchiladas), he said: "Well, I'm writing a book now, and Tom, I think you could do the illustrations."
What resulted was a set of 55 illustrations – watercolors and pen and ink drawings – that comprise the illustrations for the book, published in 1939.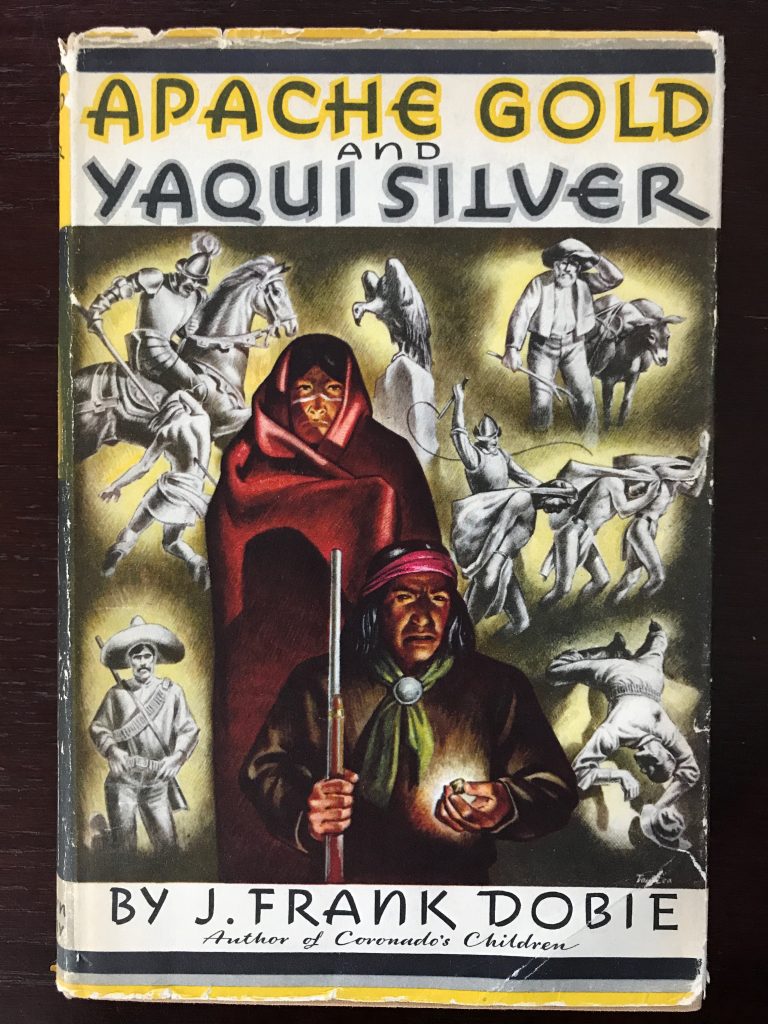 That this illustration is from the book is known from the two notes – in Lea's hand – on the lower part of the drawing:

They read:
The Adams Diggings is a shadowy naught
And they lie in the valley of fanciful thought.
"No. 20 Lost Adams Diggings – ms. page 110
TOM LEA"
It seems reasonable to surmise that the drawing was a gift to Dobie from Lea, and a gift Dobie framed and placed in his house. When I came across the drawing last year, it was covered and hanging – in its original frame and highly acidic mat, likely cut and embellished by Dobie, as Dobie has re-written the Lea quote in his own hand. (NB: You likely note how yellow the mat is. Our conservators have freed the drawing from the mat and frame, and are building a housing to keep the drawing, mat, and frame together.)
However, unknown to us was that the drawing was exhibited before Lea gave the drawing to Dobie. We acquired the library of F. Warren Roberts last year, and in the Roberts collection was a small catalog of the exhibition of the Lea drawings for the book.  In the same year as the publication of the book, the illustrations were exhibited at the Centennial Museum Gallery in El Paso on April 10-14. The catalog contains some remarks by Dobie about the drawings – and interestingly, the pamphlet was printed by the aforementioned friend of Lea, Carl Hertzog. Hertzog's printers' mark appears on the last page.
And thus this mystery was solved. As many of these items that require more investigation, it was circuitous – and I hope you enjoyed learning about the drawing as much as I did writing about it.